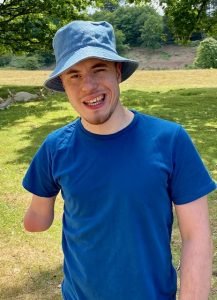 January 2021
During our time at Maidstone Mencap, spanning many years, there was a core group of young people, volunteers and staff who remained consistent over time. Tristram was one of those people. He was always there, with a smile on his face. He was easy going, funny, cheeky and a pleasure to be around. It wasn't just Tristram who was an integral part of our special group, it was his whole family.  Always present and ready to help – every family member was a familiar face in our hall and an extended part of our group. Looking back on the time now I had no idea how special our group was or how treasured those memories would become.
Tristram enjoyed being around his friends. He liked chatting with us, listening to music and telling us what was good and what wasn't! He was always cool. He was up for whatever we were doing and enjoyed countless trips to the park, slow strolls, linking arms with his helpers. He never let his physical difficulties get in the way. He was a joy. He was gentle, softly spoken and caring.  He was always there for every trip, every summer, every rainy session in the hall and every Christmas outing.
Tristram will never be forgotten by those of us who were lucky enough to have known him.
August 2022
London to Brighton Cycle Ride page in Memory of Tristram Watson (click to visit the Just Giving page)
Family and friends of our beautiful Tristram are taking on this arduous challenge to raise money for Maidstone Mencap, where Tristram enjoyed spending time with friends.
Tristram passed suddenly and too soon, our hearts will never be fixed but we hope to  give something back to this amazing charity, which supported him throughout his short life.