Welcome to Youth Club
At Youth Club, we go bowling, do the low ropes, trampolining, have art sessions and make use of the Hall and Mote Park. At our Hall, we have table football, pool, basketball hoop, football, ball pool and sensory room. In the warmer months, we hope to have a BBQ.
We welcome young people with additional personal care or medical needs, as we can provide a 1:1 Helper.
Before a young person starts Youth Club, we need some information about them about their likes, dislikes and needs. Please contact the Clubs Manager before attending a Youth Club session.
.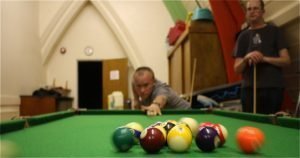 .
Who? 16-25 year-olds with a learning disability.
.
When? Two Thursdays of each month (depending on planned activity and staffing), 6.30pm – 8.30pm
.
Costs: £10 per session
.
---
.
Youth Club Dates
Now running on two Thursday evenings of every month, depending on the activity available and staff. The below dates are subject to change (we will give plenty of notice). We will confirm activities nearer the dates.
.
Thursday 23rd September
Thursday 7th October
Thursday 14th October
Thursday 21st October
Thursday 4th November
Thursday 18th November
Thursday 2nd December
Thursday 16th December
.
Times: 6:30 – 8:30pm
.
Location: Cobtree Hall and within our local community
.
Costs: £5 per hour/ £10 per session
.
Sessions must be booked in with the Manager prior to attending the Club.
.
---
.
Contact Youth Club
For further information about Youth Club, please call or email Florence.
.
Office Telephone – 01622 670 464
.
Child and Young Person Welfare Manager – Liane Morris
manager@maidstonemencap.org
.
Youth Club Manager – Florence Fanthome-Hodgson
youthclub@maidstonemencap.org
.
Address: Cobtree Hall, Willington Street, Maidstone, Kent, ME15 8EB
.
.