Welcome to Holiday Club
Summer Club caters for children aged between 4½ and 25 years who have a learning disability.  We welcome children with additional needs such as a physical disability, personal care or medicinal needs. We offer a range of fun activities, indoors and out, including outings such as bowling, swimming, trips to the park or local days out. We have a wide range of equipment and toys at Cobtree Hall to suit all ages, interests and abilities. We are able to offer a very high level of support where necessary thanks to our team of experienced supervisors, assistants and young 1:1 helpers. All children have a 1:1 carer to ensure that their individual needs and interests can be provided for.
We divide the children into two age groups; 4½-11 years and 11-25 years. We allocate different days over the period of the club to the different age groups. We provide drinks and snacks but ask parents to provide a packed lunch.
The Holiday Club enables parents to work or spend time with the non-disabled siblings of our service users or have time to themselves (which is vitally important for carers). We provide activities such as swimming and bowling, and also go on day trips locally. Parents have told us how important the Holiday Club is to them:
"I don't know what I'd do with out Holiday Club. I don't think I'd cope",
mum of a teenage boy with a learning disability & autism.

"It's a lifeline to us parents. We couldn't get through the summer holidays without it",
mum of a teenage boy with severe learning disability.
.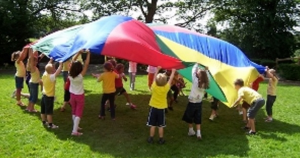 .
Who?4½-25 (inclusive) year olds with a learning disability.
.
When? Throughout August
.
Fees: £28 per day
.
---
.
Summer Playscheme 2021
Applications for our wonderful Summer Club are now open.
---
.


Photos
---
Contact Holiday Club
For further information about Holiday Club, please call or email Liane.
.
Office Telephone – 01622 670 464
. 
Child and Young Person Welfare Manager – Liane Morris
manager@maidstonemencap.org
. 
Address: Cobtree Hall, Willington Street, Maidstone, Kent, ME15 8EB
.