Volunteering
Volunteers are the lifeblood of Maidstone Mencap. Each of the clubs requires the kind-hearted help of volunteers to be able to provide the service we do for vulnerable children and adults with learning difficulties and disabilities.
Many of our volunteers are interested in working with children with special needs, and volunteering provides excellent experience for those considering a career in child education; both in SEN and/or mainstream education. Volunteering will introduce you to like-minded individuals and is a fun way to make a positive contribution to your local community.
.
Fundraising plays a major part in support of the services we provide at Cobtree Hall for our very special children, adults, and their families.
Can you spare a couple of hours to help with our fundraising events?
.
Summer Fayre; 2022
(details to follow closer to the time)
The biggest fundraising event on our calendar! Help needed, especially in the morning with setting up. Assistance is also needed for stalls that need manning during (and dismantling at the end of) the day.
Can you help, please? If yes, contact fundraising@maidstonemencap.org
.
A couple of hours of your time at either or both event would be greatly appreciated.
.


Mencap presentation new

---
.
Cobtree Playschool provides the highest quality of care and education for pre-school children with a learning disability We ensure they are happy, safe, and secure within our environment. We provide a specialist level of teaching, 1:1 care and a range of resources to encourage the children in their individual interests, learning and development. Playschool runs Mondays, Tuesdays & Wednesdays, 10 am – 1 pm.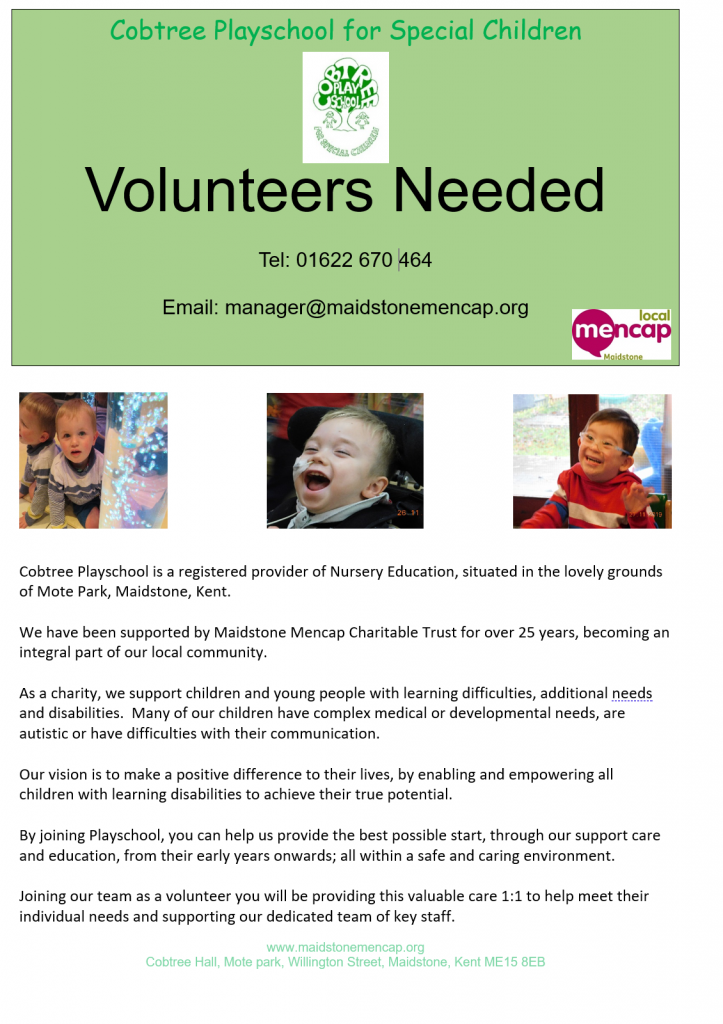 For further details, email playschool@maidstonemencap.org
.

---
.
Junior Gateway needs volunteers for their Saturday morning Junior Club, to support us 9.30 to 12.30.
The main purpose of the role is to provide 1;1 support for the children in our care, offering social fun play experiences for them.
Please contact us if you are interested in helping us to help those with learning difficulties, additional needs and disabilities, to enjoy their time in a safe and caring environment.
Job Description – Junior Gateway (1 on 1 Volunteers)
For further details, email Liane manager@maidstonemencap.org
.

---
.
Youth Club is a social club for young adults aged 16 to 18+ years with a learning difficulty or disability. The club runs two Thursday evenings per month from 6:30 – 8:30 pm.
.
We have opportunities in our local community to go bowling, swimming, trampolining, or have art, cooking, music sessions, making full use of our big hall and the local delights of Mote Park.
For further details, email youthclub@maidstonemencap.org
.
---
.
Senior Gateway Club welcomes volunteers of all ages to help run our regular Friday night social activities. We need help with setting up and putting away equipment, serving in the tuck-shop, washing-up and, most of all, joining in with the activities – thus enabling our members to fully participate in the fun. All of our volunteers find it very rewarding.
For further details, email seniors@maidstonemencap.org
.