Welcome to Senior Gateway
Various activities are available every week, such as: snooker, needlework club, and arts & crafts. Additionally, we have a rolling programme of different events, such as indoor bowls, talent night, bingo and quizzes, as well as visiting musical and/or other entertainers. There is a tuck-shop selling tea, coffee, sweets and crisps at reasonable prices. We mark special occasions of the year, such as Christmas, Halloween and Valentine's day with a disco or party with refreshments. And we run 3 or 4 outings a year.
.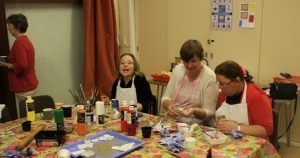 .
Who? 16+ with a learning disability
.
When? Fridays, 19:30 – 21:30
(Except for two weeks at Christmas time; two weeks in mid-August; & Good Friday).
.
Costs: Members pay £1.50 each week; carers are free.
.
---
.
Senior Gateway Club Dates
Hi Members!
Here are the planned activities to take us up to the 19th July 2019:
| DATE | ACTIVITY |
| --- | --- |
| 26th July | Obstacle races in the park |
| 2nd August | Outdoor games |
| 9th August | Outdoor party games with shandy bar and snack |
| 16th & 23rd August | SUMMER HOLIDAYS |
| 30th August | Social gathering with table games |
| 6th September | Fashion show |
Veronica has now left for her new home in Sussex but we are very lucky to have Wendy and her lovely daughter Jane to take over the art table. Hope you will give them all the support you can.
Happy Clubbing!
Marlene and Carolyn
.
---
.
Contact Senior Gateway

For further information about Senior Gateway, please call or email Carolyn or Marlene.
.
Carolyn Piper – 07762 468 097
. 
Marlene Ive – 07761 601 178
.
Email Carolyn or Marlene
seniors@maidstonemencap.org 
.
Address: Cobtree Hall, Willington Street, Maidstone, Kent, ME15 8EB
.