Welcome to Junior Gateway
Junior Gateway is a leisure group that meets on a Saturday morning in term-time at our hall. We have two age groups that meet on alternate weeks; 5-10 year-olds and 11-15 year-olds. We have 15 children in each age group which is the right number to create a buzz but still enable us to create space for children if they are overwhelmed and need some quiet time.
Junior Gateway a specialist club and offers places to children with a learning disability who have additional needs such as a physical disability, medical need, PEG feeding, behaviour that challenges or communication difficulties.
Due to the high level of need for each child, everyone attending has a 1:1 volunteer helper. We recruit and train the volunteer helpers. Training includes Safeguarding, Communication Skills, and Positive Behavioural Support. Supervisors have First Aid qualifications and are trained to administer emergency epilepsy medications and to do administer  PEG feeding.
We offer various activities at the club including cooking, art and crafts, Wii, toys, and lego. We have a sensory room and soft play area, ball pool and a small garden.
We are based in Mote Park which we take advantage of by going for walks or to the play area.
.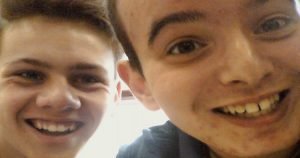 .
Who? 5-15 year-olds with learning disabilities

When? Term-time only: Saturdays, 10am – 12pm
Costs: £10 per session
.
---
.
Junior Gateway Dates
(Summer 2019, Terms 5 & 6).
5–11 year-olds
Saturday 4th May
Saturday 18th May
Saturday 15th June
Saturday 29th June
Saturday 13th July
.
11–15 year-olds
Saturday 27th April
Saturday 11th May
Saturday 25th May
Saturday 22nd June
Saturday 6th July
Saturday 20th July
.
---
.
Contact Junior Gateway
For further information about Junior Gateway, please call or email either Liane or Tina.
.
Office Telephone – 01622 670 464
.
Clubs Manager – Liane Morris
manager@maidstonemencap.org
.
Junior Gateway Supervisor – Rebecca Altieri
juniors@maidstonemencap.org
.
Address: Cobtree Hall, Willington Street, Maidstone, Kent, ME15 8EB
.